(Again, outdated. Got deleted for some reason)
The ALMS field is shaping up, and it actually doesn't look too bad!
P1:
Audi is back, though most likely with only one car for the majority of the rounds. Peugeot will be at Sebring, and from looking and testing times, they might give Audi a run for their money. Autocon will be back with their crap (though pretty) Creation, and Intersport will return with their aging Lola. Audi should sweep the championship unless they break down (which is unlikely given their pedigree). If we're lucky, we'll also get the closed top Lola Aston Martin at Sebring along with the factory Creation car.
My favorite? The Peugeot 908 HDi-FAP, even if its only doing Sebring and Petit.

P2:
Again, the P2 field will be absolutely packed! At least 4 Porsches, 4 Acuras, 1 Radical, and the Lola-Mazda! I expect Penske will take more overall wins this year, though hopefully the revised Acura can give them a run for their money. There's tlak of a closed-top P2 Lola in europe, and there may be a P2 Zytek at Sebring.
My favorites: The underdog Lola-Mazda (beautiful):

2nd Favorite: The Highcroft Acura (brilliant paint scheme this year!)

GT1:
Rather boring this year. Corvette is back with only one car for most rounds. There is competition in the form of a DBR9, but it was way off the pace at the Sebring test, so don't expect much. Hopefully the Doran-Lista Maserati will make another appearance. There's also still rumors of the ACEMCO Saleens being sold to someone here.
Favorite: Well, I hate Corvette, and the DBR9 sucks, so I'll go with last year's Maserati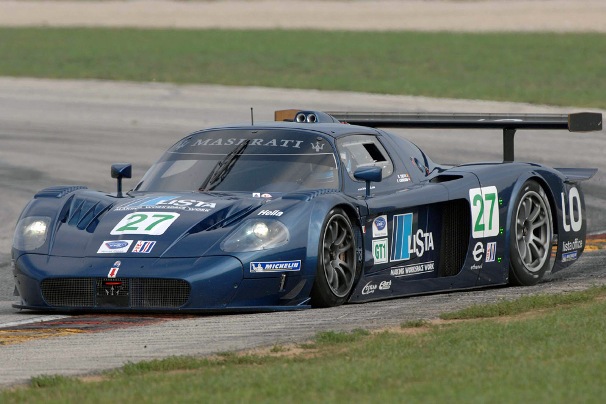 GT2:
The field should be packed this year with a whole bunch of other weird things! Rumors point to 5 ferraris (2 Tafel, 2 Risi/Krohn, and 1 Corsa), 6 Porsches (3 Lizards, 1 Farnbacher, 1 Vici), 3 Ford GTs (UGLY AS SIN), 1 Corvette, 1 Panoz, 1 Viper, and 1 Vantage GT2! Expect Risi to dominate again, but I hope the Aston Martin can give them a run for their money, it's a pretty car (see below). Also to note is that BMW will be back in 2009, with Rahal running M3s.
Favorite: The Aston Martin. I just hope its fast

So, it should be an exciting season in P2 and GT2, but there's potential for excitement in P1 and GT1 at the big events, especially with some European competition!