ALMS, my favorite variety of sportscar racing, has been amazing this year, and today's race at Mosport did not disappoint! During qualifying, Audi turned a lap in excess of 138 mph, making Mosport the fastest sportscar course in America!
I was watching the race in style: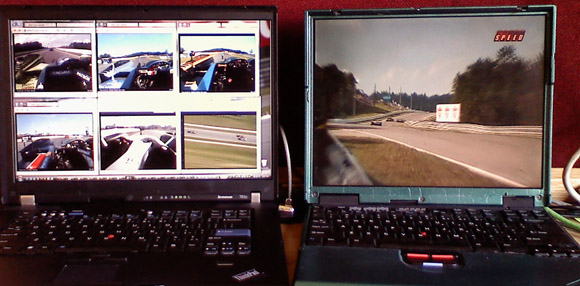 On the left, my new T61p is sporting streams of onboard and overhead cameras. From left to right, top to bottom the views are Highcroft, Fernandez, AGR, De Ferran, Audi, and the Overhead camera. On the right, my old T23 was displaying live Speed coverage streaming from my roommate's capture card.
The racing was exceptional all the way through. Early Audi dominance gave way to superior LMP2 strategy and pitstops. Though there were a couple nasty cautions (I hope John Faulkner in the #30 Intersport car is alright!), the green flag sections created close racing both for overall, LMP2, and GT2. The end of the race was spectacular, with several cars needing to stop for fuel, and two more running out of fuel! Shame for De Ferran… But, that gave the LMP2 victory to the Highcroft Acura (my preseason pick). The LMP2 points battle is shaping up to be a classic! Also, special congrats to BK for finishing the race! I can't wait for them to get their coupe!
Congratulations to the Highcroft team!

F1 this weekend was a bit of a parade… and Raikkonen getting knocked out was a bummer. Congrats to Massa, Kubica, Kovalainen, Trulli, Vettel, Glock, and Rosberg for good finishes (notice who I left out?).
Fia GT was racing at Bucharest this weekend, which was a unique course with a great sense of speed. Points were divided between two hour long races. While evil yellow cars won both races, Vitaphone still did nicely, finishing 3rd and 4th in the 1st race and 2nd and 3rd in the 2nd race (due to a mistake by one of the evil yellow cars). Go Maserati! The competitiveness of all the non-Corvette GT1 cars was pretty impressive, and there was a lot of action overall. AF Corse was dethroned in GT2 by CR Scuderia.